Back in June of 2011, I posted a poem I wrote in honor of my Dad after he passed away in 2004. I had posted a version of the poem, written in the
present
tense for Father's Day.
However, I have gotten some requests to offer the
original
version, written in the
past
tense, so that other people may also use it, in order to honor their own Dads, who have also passed away.
It is an honor to post the original poem that I wrote for my Dad and read at his funeral. I'm sure he would also be honored, if it could be helpful to others. Although I wrote it with my own Dad in mind, I believe it is general enough in content, for any loving Father.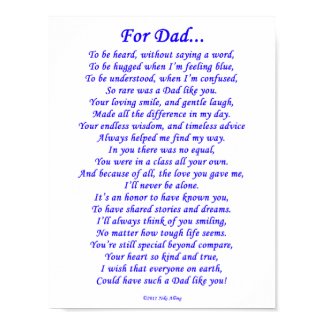 For Dad Memorial Poem by nikiclix
You can find both versions of this poem-
past and present
in my online shops.
Thank You
(Also see-)
For Dad GIFTS (written in present tense)
ALSO:
I also have a children's picture book for Fathers and children, called -
Your Father's Love
and one for Mothers called -
Your Mother's Love
. You can find them on my sidebar and more books on my author page at
Amazon:
amazon.com/author/nikialling