Through the years, I have had the honor of working along side and in the same buildings with many wonderful teachers. Today I would like to honor them by re-posting the poem I wrote especially for them. I've learned so much from them, and that knowledge carries over into my personal life, and my creative life. It has always been my belief that knowledge is what helps us to conquer our fears, and the teachers are the ones who give us the gift of learning.
Also, to the many teachers who taught my own children as they were growing up; thank you. They have both become wonderful young adults, and as I was a single parent while they were growing up, I give their teachers the utmost credit in working with them and with me in helping to mold their young lives. I'm looking forward to watching my grandchildren begin school, very soon, and to see the wonder of learning and knowledge that their teachers will give to them. Thank you teachers, this one is for you.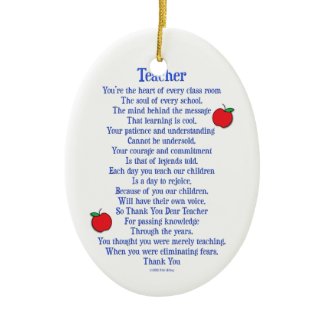 Teacher Christmas Ornament
by
nikiclix
Create
customized christmas tree ornaments
at zazzle.com.